Best of Rajasthan Travel
---
BEST OF RAJASTHAN TRAVEL
It is the travel season and we can't help but look at the alluring Rajasthan vacation packages to have a splendid vacation amid the cultural heritage and the picturesque beauty of the place. Rajasthan is the dream destination for every traveler; and why shouldn't it be? The land of kings and queens, Rajasthan is known for its majestic forts and palaces, delicious cuisines, sand dunes, the textile industry and not to forget the ship of the desert! A paradise for every traveler, Rajasthan is the ultimate travel destination, reflecting tradition and cultural heritage in the most unique way possible. With colorful Jodhpuri pagris, mojris and artistic jewelry, one can't help but drool over these creations of the multifaceted Rajasthan.
If you're thinking as to what all you can do, let us inform you, that the list is endless! With so many monuments to visit, with so many activities to try your hands on, with authentic stores to shop from, and with a lot of cuisines to try, Rajasthan is an exciting escapade, ready to have you experience travel and adventure at its best.
When you look across a list of holiday packages to Rajasthan, it's confusing as you would want to cover every single bit of the mighty state. But if you are looking for a concrete solution as to the places you must visit, the things that make you feel your adrenaline rush, and the cuisines that excite your taste buds, we have a full travel deal for you that you can adhere to, as the information stated below is filtered and is bound to make you book tickets right away!
Here are the major historical places in Rajasthan that you can visit:
Get ready to roll your eyes at the majestic forts and feel your neck hurt as you determine the height of those pillars supporting the monuments.
1. Amer fort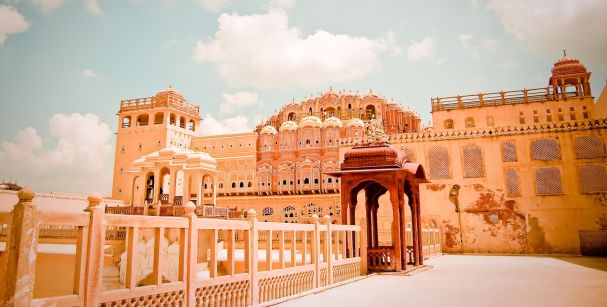 A blend of the Hindu and the Muslim architectures, the Amer fort was built in the 17th century by Maan Singh, a trusted friend of King Akbar. Located on the outskirts of the Jaipur city, this fort is sure to lure you with its majestic walls and entice you with its historic significance and its cultural beauty.
2. Jaisalmer Fort
One of the largest forts in the world, the Jaisalmer fort is undoubtedly a major tourist attraction, encompassing temples, havelis, and palaces. Built in the 12th century, the fort rests on the Trikula Hills, in the middle of the great Thar Desert. Watch the fort change its color to a beautiful honey golden as the sunset mesmerizes you with its beauty.
3. Hawa mahal
Make yourself comfortable amid the cool breeze, transporting you into a dreamy state as you enter the Hawa Mahal. Made of beautiful red and pink sandstone, this honeycomb structured palace was built in the 18th century so the women inside the Mahal could watch what the activities that would happen on the street. The name of this fort holds a literal sense, because of the architectural intelligence behind building this fort.
4. Chittorgarh Fort
The epitome of chivalry, this fort is the center of many battles; one of them being the one to won the Queen of Chittor. The king who had those guts failed to claim the queen as she along with her maid jumped in the fire. With an interesting history and a reminiscence of bravery, this place holds a strong prominence and is undoubtedly one of the best places to visit in Rajasthan.
5. Mehrangarh Fort
One of the largest forts in the world, this fort was built in the 15th century, and its architecture is still worthy of praise. Sitting on a hill top that is a good 400 meters above the ground, this fort offers a stunning view of the blue city, in addition to the personal belongings of the royal family. The pearl palace, the mirror palace, and the Chamunda Devi temple are some of the major attractions to look for.
Apart from these historical attractions, there are a lot of places of tourist interest in Rajasthan that you can visit and explore:
Are you an adventure freak, looking for any activity that makes your adrenaline? Well, we have some activities that are sure to make you go crazy!
Popular Activities in Rajasthan:
1. Zip lining
Also known as flying fox, this blissful ride from one cliff to another is a popular adventure sport to try in Rajasthan. You can try the activity at the Neemrana Fort and the Mehrangarh Fort, and enjoy the splendid view of forts and the greenery on way between those cliffs.
2. Safari
Explore the wildlife of Rajasthan on a safari tour, to some of the best wildlife sanctuaries and bird Sanctuaries in Rajasthan. Ranthambore National Park, Sariska Tiger Reserve, and Bharatpur Bird Sanctuary are some of the most popular wildlife sanctuaries to set foot in and enjoy the beauty of nature.
3. Sand-dune bashing
Are you ready to experience adventure and thrill with some dune bashing? Book an SUV, fasten your seatbelts and ride through the Thar Desert to experience the adrenaline rushing through your veins with the constant ups and downs and those jumps from one sand dune to another.
4. A day out with elephants
Elephants in Rajasthan represent chivalry as they used to be the most beloved means of transport for the kings in earlier times. So why don't you spend a day with those friendly creatures? The activity includes giving the elephants a shower, while getting drenched yourself, feeding them sugarcanes, and even painting their trunks! So what are you waiting for? Quickly add it to the list of best places to visit in Rajasthan!
5.
Go vintage
Rejoice machine fanatics, as Rajasthan has the best collection of vintage cars that you could ever imagine! There are rallies that take place in Jaipur, with a variety of cars lined up to lure you with their beauty and technicality.
6. Chokhi
Dhani
To have the best of Rajasthan's authentic food, one of the best famous tourist places in Rajasthan. Catering to the explorers and excited travelers who crave for authentic Rajasthani cuisine, this place is every foodie's delight, offering sumptuous food, and dining according to the Rajasthani tradition. A beautiful ambience, earthy décor and prompt service are sure to make you come back for more.
7.
Hot air balloon ride
Soar higher and higher in the air with a hot air balloon ride. Offering a beautiful view of the city, this ride is sure to elate your senses. With rides available in Ranthambore, Jaipur and Pushkar, you can enjoy a bird's eye view of the city with friends and family.
The culture, history, and tradition of Rajasthan are what make the place every visitor's center of attention. But there is one more element that adds spice to the tourist friendly destination, which is "food". The authenticity of Rajasthan lies in its spicy food, which not only makes your eyes and nose watery, but also makes you wonder as to how it makes your taste buds dance. Are you excited to try the cuisine of Rajasthan? Well, here are some dishes that are going to make you visit the chef and ask him the recipe.
Famous Food Dishes:
1. Dal Bati Churma
A Rajasthani platter is incomplete without this classic dish. With the Batis dipped in a generous amount of ghee, served with Panchkuti Dal and Choorma are sure to make you crave for more.
2. Ghevar
The charm of every Rajasthani ceremony, this dish is a delight for the ones with a strong palette for sweet dishes. Shaped in the form of a disc, this dish comes in multiple variants that you can try and enjoy.
3. Shahi Gatte
An authentic Rajasthani dish, shahi gatte is a variant of the popular dish Masala gatte. With the besan dumplings deep fried, and the gravy thick and spicy, this dish is a must try. It can be paired with any type of bread and rice, exhibiting its versatility in the most unique fashion.
4. Kalmi Vada
A tea time favorite, this deep fried Rajasthani classic is a perfect evening snack. Served with spicy green chutney, the deep fried crispies are sure to make you crave for more.
5. Gujiya
A classic dish from the land of the Maharajas, the gujiya is a Rajasthani favorite and is a must have sweet dish gracing various occasions like Holi. So dig into a sumptuous plate of Gujiyas and unfold the sugary flavor underneath!
6. Methi Bajra Poori
Pairing excellently with aloo sabzi, and the classic boondi raita, a favourite of North Indians, these steamy pooris are perfect for the health conscious people. Prepared with a minimum amount of oil, these pooris are nothing less than delectable.
7. Aam ki launji
A classic pickle prepared from raw mangoes, this dish is like a cool breeze in the hot summer sun. Made with nigella and fennel, this pickle has a sweet and sour texture to it, with mango chunks added to enhance its flavor. Don't forget to buy a bottle for yourself after trying it!
8. Rajasthani kadhi
A spicy version of the Maharashtrian and Gujarati Kadis, this Rajasthani staple pairs beautifully with rice and ignites yout taste buds with its spicy and classic flavor.
9. Ker sangri
Are you a fan of pickles? This tangy vegetable side dish is a kind of pickle goes perfectly with Bajra roti and is a Rajasthani favorite that you must try.
10. Dil khushal
If you're a sweet tooth, do try this famous Rajasthani delicacy. Made with gram flour, also known as besan, the soft texture of this sweet is sure to leave your mouth watering to have more of it.
11. Laal maas
If you're a fan of chillies, try the Laal Maas, which gets its hot red color from those spicy red chillies. Rice or Bajra roti, you choose. Try this dish and watch yourself sweat while indulging in the delectable dish.
Conclusion
Rajasthan is a place full of surprises, exhibiting a cultural enigma and a deep rooted history. With a beautiful blend of culture and history, Rajasthan still has its tradition and its culture heritage intact, and that's the beauty of it. So indulge in the beauty of Rajasthan with the best Rajasthan family tour package and discover what is in store for you!